The brand-new facility is optimized for 5G and will help the Un-carrier bring 5G to everyone everywhere with New T-Mobile
Novedades:
T-Mobile acaba de abrir un nuevo laboratorio de dispositivos, diseñado para analizar el rendimiento y probar los dispositivos en todo el espectro 5G, presente y futuro, del Un-carrier, así como todas las tecnologías actuales.
Por qué es importante:
New technology requires new and innovative approaches to testing, and the new lab will help T-Mobile ensure customers have the best experience possible with their new 5G devices.
Para quiénes es importante:
Anyone who relies on a mobile device and needs it to perform well every day. 
Bellevue, Washington - 15 de agosto de 2019 - If you build it, 5G innovation will come. T-Mobile (NASDAQ: TMUS) just opened its new device lab, a 20,000 square foot facility built to test smartphones and any other devices that connect to the Un-carrier's network using any technology available, including 5G, 4G LTE, 3G, LAA, Narrowband IoT and more. The space is made up of more than a dozen testing areas where T-Mobile engineers analyze and fine-tune everything from network signal quality, voice call and sound quality, data throughput and video optimization … to in-depth testing of the latest software, applications and services. Devices are also pressure tested for durability - even the ability to withstand extremes like heat, water, tumbles and drops. The lab also includ es equipment designed specifically to test devices using low-band, mid-band and millimeter wave 5G spectrum - allowing engineers to tap into all of T-Mobile's current and planned multi-band 5G network to ensure devices in customers' hands deliver the best experience possible.
The new device lab is smack dab in the middle of T-Mobile's Launch Pad innovation center in Bellevue, Washington, which also houses the Un-carrier's network lab and the Tech Experience. The Launch Pad was built to bring device and network quality engineers together to innovate and refine technologies from end-to-end before delivering them to customers. And that's critical when it comes to 5G with brand new technology in both the network and devices that needs to work together seamlessly for customers.
"5G will unlock SO MANY new capabilities and opportunities for innovation. And with that comes new complexities in delivering the technology to customers," said Neville Ray, Chief Technology Officer at T-Mobile. "We've evolved in this new era of wireless to deliver continuous innovation and the best 5G experience possible - from the network to the devices in their hands - which is why I'm So. Damn. Proud. of this amazing team and cutting-edge lab."
T-Mobile is in a unique position to roll out broad 5G to customers quickly with its dedicated low-band 600 MHz spectrum, and if regulators approve the merger with Sprint, New T-Mobile will have the critical mid-band spectrum to add greater capacity and supercharge that network. The new device lab is equipped with new, rigorous tests to ensure smartphones, IoT devices and any other connected devices take full advantage of the high-, mid- and low-band spectrum from New T-Mobile 5G, if the merger is approved.
Here are a few of the testing areas in the new device lab:
Sub-6 GHz 5G Radio Performance Chamber
The new Sub-6 GHz 5G Radio Performance Chamber helps engineers maximize T-Mobile's network performance on mid- and low-band 5G smartphones. Armed with more than 50 antennas at different angles, it measures the level and quality of signal the device can send and receive, with the goal of maximizing how far it can go from a cell site and maintain a quality connection. This is key to ensuring T-Mobile's nationwide 600 MHz 5G spectrum has the best and biggest coverage possible.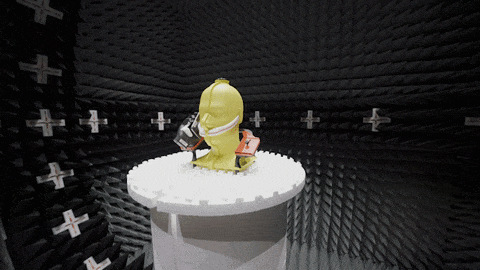 5G Millimeter Wave Antenna Range
The new 5G Antenna Range was built specifically to test 5G on millimeter wave (mmWave) high-band spectrum, which requires extreme precision when connecting to a device due to its very small wavelength. With a mmWave base station at one end of the room and a smartphone at the other, engineers ensure a quality signal is established and maintained as the phone is moving. With advanced features like massive MIMO and beamforming, mmWave antennas require more testing to ensure excellent hardware and software performance.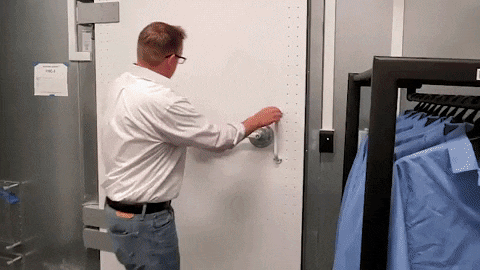 Multi-band 5G SmartLab Chambers
New multi-band 5G SmartLab Chambers support all of T-Mobile's current and planned 5G spectrum. In each chamber, engineers put devices through the wringer testing different combinations of spectrum and technology to ensure devices are ready for the different scenarios customers encounter. Being able to simulate complex radio environments in the lab allows T-Mobile to maximize the performance and efficiency of its devices.
Software Performance Lab
The Software Performance Lab contains machines designed and patented by T-Mobile that each test hundreds of functions on every device, simulating a week's worth of customer usage in just 24 hours. Everything from the keyboard, user interface speeds (how responsive the software is), battery life, music, voice calls, gaming, videos and photos, text messaging, e-mail, web browsing, app downloads and more. Devices must run continuously for 24 hours and perform hundreds of tasks without a single hiccup, stall, freeze or glitch.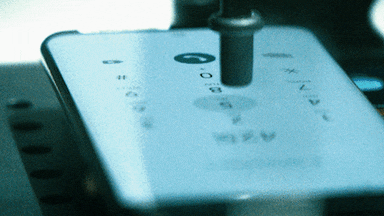 Hardware Pressure Testing Room
Inside the Hardware Testing Room, T-Mobile tumbles, scratches, heats, freezes, submerges and drops devices to test their durability. Every device is exposed to extreme temperatures of up to 140 degrees Fahrenheit at 90 percent humidity and as low as zero degrees for one week, submerged in water and tumbled in a meter-long metal box more than 100 times. Engineers run a rough metal edge across each device screen to test scratch resistance. The drop test machine drops devices onto concrete from 14 different angles from up to one meter high. Devices are run through the drop test machine four times and engineers check for hardware reliability as well as performance after each drop utilizing a high-speed camera to inspect exactly how the device behaves when it hits the ground. Ouch!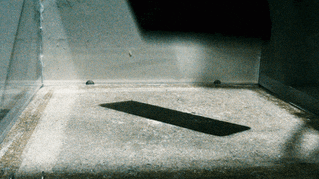 For more information on T-Mobile's 5G network and vision, visit https://www.t-mobile.com/coverage/4g-lte-5g-networks.
Acerca de T‑Mobile US, Inc.
Como El Un-carrier de EE.UU., T-Mobile US, Inc. (NASDAQ: TMUS) está redefiniendo la forma en que los consumidores y las empresas adquieren los servicios de telefonía móvil por medio de liderazgo en la innovación de productos y servicios. Nuestra avanzada red nacional 4G LTE brinda experiencias excepcionales de servicio móvil a 83.1 millones de clientes que no están dispuestos a transigir en calidad y en valor. Con sede en Bellevue, Washington, T-Mobile US presta servicios a través de sus subsidiarias y opera sus marcas emblemáticas, T-Mobile y Metro by T-Mobile. Para obtener más información, visita  http://www.t-mobile.com.

Important Additional
Information In connection with the proposed transaction, T-Mobile US, Inc. ("T-Mobile") has filed a registration statement on Form S-4 (File No. 333-226435),which was declared effective by the U.S. Securities and Exchange Commission (the "SEC") on October 29, 2018, and which contains a joint consent solicitation statement of T-Mobile and Sprint Corporation ("Sprint"), that also constitutes a prospectus of T-Mobile (the "joint consent solicitation statement/prospectus"), and each party will file other documents regarding the proposed transaction with the SEC. INVESTORS AND SECURITY HOLDERS ARE URGED TO READ THE JOINT CONSENT SOLICITATION STATEMENT/PROSPECTUS AND OTHER RELEVANT DOCUMENTS FILED WITH THE SEC WHEN THEY BECOME AVAILABLE BECAUSE THEY WILL CONTAIN IMPORTANT INFORMATION. Los documentos presentados por T-Mobile se pueden obtener sin cargo en el sitio web de T-Mobile, en es.t-mobile.com, o en el sitio web de la SEC, en www.sec.gov. También se pueden solicitar por correo sin cargo a T-Mobile enviando una carta a T-Mobile US, Inc., Investor Relations, 1 Park Avenue, 14th Floor, New York, NY 10016, o llamando por teléfono al 212-358-3210. Los documentos presentados por Sprint se pueden obtener sin cargo en el sitio web de Sprint, en www.sprint.com, o en el sitio web de la SEC, en www.sec.gov. También se pueden solicitar por correo sin cargo a Sprint, enviando una carta a Sprint Corporation, Shareholder Relations, 6200 Sprint Parkway, Mailstop KSOPHF0302-3B679, Overland Park, Kansas 66251, o llamando por teléfono al 913-794-1091.

No es oferta ni propuesta comercial
Esta comunicación no constituye una oferta para vender ni una propuesta comercial de una oferta de compra de valores, ni habrá venta de valores en ninguna jurisdicción en la que dicha oferta, propuesta comercial o venta se considere ilegal con anterioridad a la inscripción o calificación, conforme a la legislación sobre valores vigente en dicha jurisdicción. No se podrán ofrecer valores, excepto por medio de un prospecto que cumpla con los requisitos de la sección 10 de la Ley de Valores de EE.UU. de 1933, y sus posteriores enmiendas.

Advertencia en relación con las declaraciones a futuro
Esta comunicación contiene ciertas declaraciones a futuro con respecto a T-Mobile, Sprint y la transacción propuesta entre T-Mobile y Sprint. Todas las declaraciones que no sean declaraciones de hecho, incluida la información sobre resultados futuros, son declaraciones a futuro. Estas declaraciones a futuro generalmente se identifican mediante las palabras "anticipar", "creer", "estimar", "suponer", "pretender", "puede", "podría" o expresiones similares. Dichas declaraciones a futuro incluyen, entre otras, declaraciones sobre los beneficios de la transacción propuesta, incluidos futuros resultados financieros y operativos previstos, sinergias, tasas de aumento y crecimiento, los planes, objetivos, expectativas e intenciones de T-Mobile, de Sprint y de la compañía combinada, y el plazo previsto para completar la transacción propuesta. Existen varios factores que podrían ocasionar que los planes y resultados reales difieran de manera sustancial de los expresados o implícitos en las declaraciones a futuro. Dichos factores incluyen, entre otros, la imposibilidad o la demora para obtener las aprobaciones normativas obligatorias y el riesgo de que dichas aprobaciones puedan ocasionar la imposición de condiciones que pudieran afectar en forma adversa a la compañía combinada o los beneficios previstos de la transacción propuesta o el incumplimiento de cualquiera de las demás condiciones para la transacción propuesta de manera oportuna o en su totalidad; acontecimientos que puedan originar un derecho de una o ambas partes a cancelar el acuerdo de fusión de las empresas; efectos adversos en el precio del mercado de las acciones ordinarias de T-Mobile o Sprint y en los resultados operativos de T-Mobile o Sprint por no completar la transacción propuesta, o no hacerlo en el plazo previsto; la imposibilidad de obtener la financiación contemplada en relación con la transacción propuesta, o no hacerlo en los términos o en el plazo previsto; la capacidad de T-Mobile, de Sprint o de la compañía combinada de efectuar pagos sobre deudas, de pagar una deuda existente o futura a su vencimiento o de cumplir con los convenios incluidos en la misma; cambios adversos en la calificación de los títulos de deuda de T-Mobile o Sprint o condiciones adversas en los mercados crediticios; efectos negativos del anuncio, pendencia o culminación de la transacción con el precio de mercado de las acciones ordinarias de T-Mobile o Sprint y sobre los resultados operativos de T-Mobile o Sprint, por ejemplo, como resultado de los cambios en relaciones clave con clientes, proveedores, empleados u otras relaciones comerciales; costos de transacción considerables, incluidos los costos financieros y los pasivos desconocidos; la imposibilidad de lograr los beneficios previstos y las sinergias de la transacción propuesta, o no lograrlos en el tiempo previsto; costos o dificultades relacionadas con la integración de la red de Sprint y las operaciones con T-Mobile; el riesgo de litigios o acciones normativas, incluyendo el litigio antimonopolio facilitado por los asesores legales de algunos estados y del Distrito de Columbia; la incapacidad de T-Mobile, de Sprint o de la compañía combinada de retener y contratar personal clave; el riesgo de que ciertas restricciones contractuales en el acuerdo de fusión de las empresas durante el curso de la transacción propuesta pudiera afectar de manera adversa la posibilidad de T-Mobile o Sprint de buscar oportunidades comerciales o transacciones estratégicas; efectos de los cambios en el entorno normativo en el que operan T-Mobile y Sprint; cambios en las condiciones globales, políticas, económicas, comerciales, competitivas y del mercado; cambios en las leyes fiscales u otras leyes y reglamentaciones; y otros riesgos e incertidumbres detallados en el formulario S-4 y en el informe anual de T-Mobile en el formulario 10-K para el año fiscal que finalizó el 31 de diciembre de 2018 y sus informes subsiguientes en el formulario 10-Q, incluidos los detallados en las secciones "Factores de riesgo" y "Advertencia en relación con las declaraciones a futuro", así como en sus informes subsiguientes en el formulario 8-K, presentados ante la SEC y disponibles en www.sec.gov y es.t-mobile.com Las declaraciones a futuro se basan en expectativas y suposiciones actuales, que están sujetas a riesgos e incertidumbres que pueden ocasionar que los resultados reales sean sustancialmente diferentes de los expresados o implícitos en dichas declaraciones a futuro. En virtud de estos riesgos e incertidumbres, se exhorta a los lectores de esta comunicación a no basarse indebidamente en dichas declaraciones a futuro. T-Mobile no asume ningún tipo de obligación de actualizar o modificar la información contenida en esta comunicación (ya sea como resultado de la nueva información, acontecimientos futuros o algún otro factor), a menos que así lo exija la legislación vigente.