Novedades:

The Un-carrier's industry-leading technology has now blocked 3.5 billion scam calls and warned customers of 15 billion 'Scam Likely' calls. Now, T-Mobile is hosting a virtual 'Block Party' on July 15th to raise awareness of Scam ID, the free service that flags 'Scam Likely' calls, and Scam Block, the free option that stops 'Scam Likely' calls before they ever reach your phone.
Por qué es importante:

Experts say nearly half of all mobile calls this year will be robo-spam1, and customers say robocalls suck2.
Para quiénes es importante:
Anyone who's sick and tired of getting calls they don't want. So, you know, like everyone.

 
Bellevue, Washington. 11 de julio de 2019. Scammers and spammers, y'blocked. Robocalls are on the rise, and T-Mobile (NASDAQ: TMUS) continues to lead the war against robo-spam - all those unwanted robocalls and scam calls. Today, the Un-carrier announced it has now blocked 3.5 billion scam calls and warned T-Mobile and Metro by T-Mobile customers about 15 billion 'Scam Likely' calls since launching its free network-based Scam ID and Scam Block solutions in March 2017. The Un-carrier is now warning customers about one billion 'Scam Likely' calls a month - or 23,000 every minute!
But the problem is only getting worse. U.S. mobile customers received nearly 48 billion robocalls last year – more than 150 calls for every adult3. And half of calls this year are projected to be robo-spam, and in the last twelve months, Americans have been scammed out of over $10 billion4. Fraudsters are finding more sophisticated ways to trick consumers, spoofing familiar business numbers and using personal information to lure people in to a false sense of security.
T-Mobile customers have choices when it comes to dealing with robo-spam. Every postpaid T-Mobile customer and Metro by T-Mobile customers get free Scam ID included, so they get warned of a 'Scam Likely' call and can decide when to pick up – or get the satisfaction of hitting "decline" on scammers. But by simply dialing #662# to activate free Scam Block, these customers will never see another 'Scam Likely' call again. To help customers understand those options, T-Mobile is hosting a virtual Scam 'Block Party' on July 15th to get customers activating Scam Block and sharing robo-spam prevention tips on their social channels.
"We recognized the robocalling epidemic early on and were first to give customers 100% free scam protection built into the core of our network and first to launch caller verification," said John Legere, CEO of T-Mobile. "We believe customers should always be in the driver's seat, and that's why we have Scam ID and Scam Block. Personally, I like Scam ID so I can see 'Scam Likely' calls. It's soooo satisfying to hit "decline"! But if you never want to see those calls again, activate Scam Block, and we'll stop them before they ever reach your phone."
T-Mobile's Virtual 'Block Party'
To raise customer awareness, the Un-carrier is hosting a virtual 'Block Party' on July 15th starting at 6 AM PT on Twitter. During the 'Block Party,' share a screenshot, photo or video of you turning on Scam Block and post it on Twitter o Facebook using #ScamBlockParty. Already enabled Scam Block? Just retweet @TMobileLatino or share on T-Mobile's Facebook posts using #ScamBlockParty. Or, anyone can play along with Robocall Trivia! However you join the 'Block Party', be on the lookout for surprises from the Un-carrier!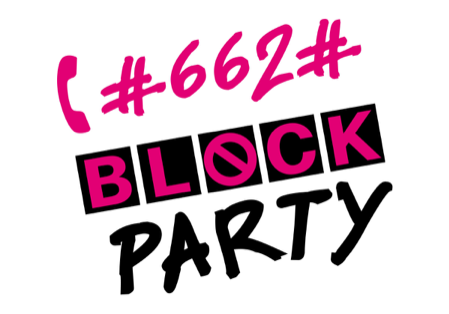 Network Protection FTW
T-Mobile protects consumers at the core of its network with scam-prevention technology built right in. Using AI and machine learning, T-Mobile analyzes calls to examine their "fingerprint" and behavior to detect likely scams. And T-Mobile's protections update constantly, every 4-6 minutes, while app-based approaches are only as current as your last app update.
T-Mobile offers three key ways to stay protected from scam calls.  
T-Mobile Leads the Industry in Scam Protection
From delivering the industry's first 100% free scam network-level protection to launching the first cross-network call authentication using STIR/SHAKEN standards, T-Mobile has been leading the fight against robocalls for over two years.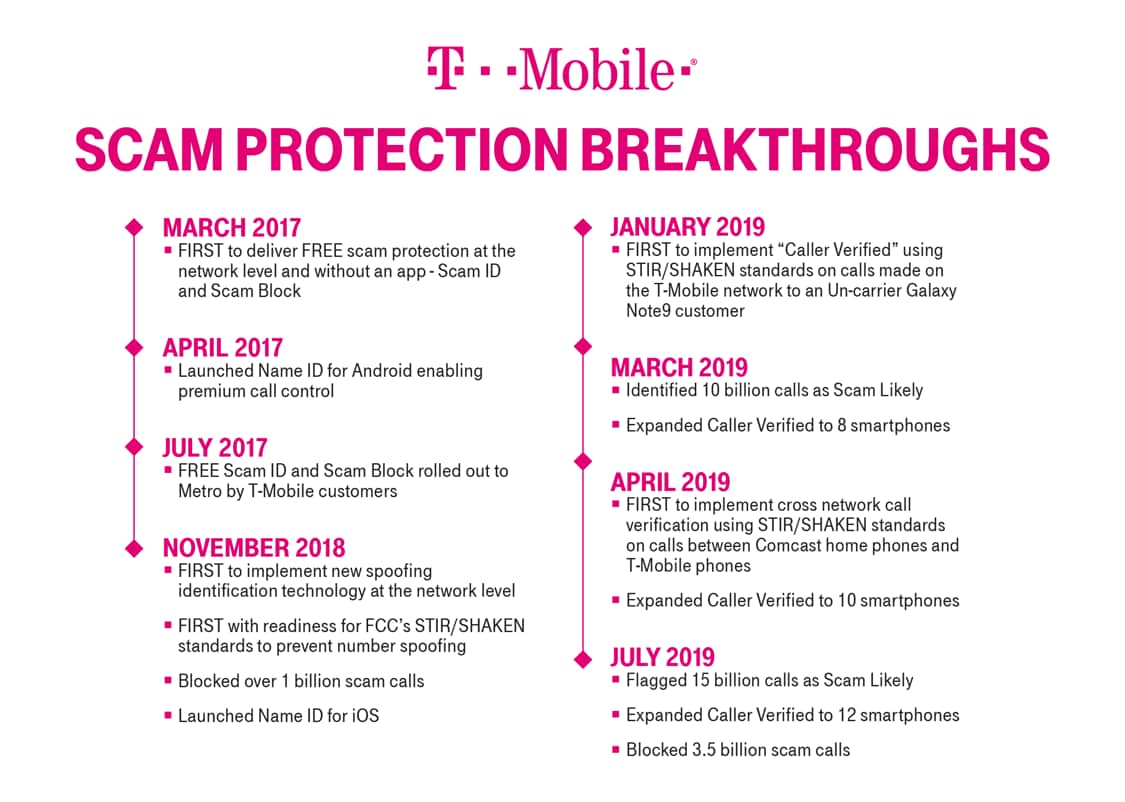 To turn on Scam Block, T-Mobile postpaid and Metro by T-Mobile customers simply dial #662# on a T-Mobile phone, or to turn it off, dial #632#. You can also enable Scam Block through MyTMobile.com or the T-Mobile Name ID app. To learn more about all the ways T-Mobile keeps consumers protected against scams and spam, visit https://www.t-mobile.com/resources/call-protection.

1 First Orion, September 12, 2018
2 Just ask someone. Seriously, anyone.
3 YouMail Robocall Index, January 23, 2019
4 Truecaller 2019 U.S. Spam & Scam Report, April 2019    Scam ID and Scam Block are for all T-Mobile postpaid and Metro by T-Mobile customers. Se requiere dispositivo equipado. Al habilitar Scam Block se pueden bloquear de forma involuntaria ciertas llamadas deseadas. Scam Block se puede desactivar en cualquier momento. Name ID: Info for some unknown numbers not available.
Acerca de T‑Mobile
Como El Un-carrier de EE.UU., T-Mobile US, Inc. (NASDAQ: TMUS) está redefiniendo la forma en que los consumidores y las empresas adquieren los servicios de telefonía móvil por medio de liderazgo en la innovación de productos y servicios. Nuestra avanzada red nacional 4G LTE brinda experiencias excepcionales de servicio móvil a 81.3 millones de clientes que no están dispuestos a transigir en calidad y en valor. Con sede en Bellevue, Washington, T-Mobile US presta servicios a través de sus subsidiarias y opera sus marcas emblemáticas, T-Mobile y Metro by T-Mobile. Para obtener más información, visita  http://es.t-mobile.com.