Everyone Gets a Chance to Win Tickets to Global Premiere in Celebration of

X-Men

Día

Bellevue, Washington. 13 de mayo de 2019. T-Mobile Tuesdays has an X-tra killer offer for Un-carrier customers, thanks to a partnership with Twentieth Century Fox. On Tuesday, June 4th, T-Mobile (NASDAQ: TMUS) customers can score $4 tickets to see Dark Phoenix on opening weekend. And, to celebrate X-Men Day today, the Un-carrier is giving away an all-expenses paid trip for two to the global red carpet premiere on June 4th in Los Angeles!
Today only, anyone – Un-carrier customer or not – can enter to win a trip to the Dark Phoenix premiere. Simplemente busca  la publicación en Twitter de John Legere, CEO de T-Mobile, sobre el regalo...y al tuitear #XMenSweepstakes participas en el concurso. Then on Tuesday, June 4th, T-Mobile customers can claim their $4 movie ticket through the Aplicación T-Mobile Tuesdays o en línea and redeem the offer through the Atom Tickets app between June 4th and 9th.
T-Mobile ONE customers just get more — the industry's best unlimited plan with taxes and fees included, the industry's best travel benefits including free in-flight texting and an hour of Gogo inflight wi-fi when traveling domestically along with unlimited texting and data in más de 210 países y destinos...y  T-Mobile Tuesdays con accesorios gratis y un montón de descuentos todas las semanas, sin compromiso alguno. No tienes que conseguirlo, acumular puntos, alcanzar cierto "nivel" u otra cosa... simplemente lo obtienes, como agradecimiento por ser cliente.
X-Men Day celebra la finalización de la saga de X-Men, su base de fanáticos mundial, todos los personajes adorados, su impacto innovador en la cultura popular y la durabilidad en atraer a la audiencia por casi 20 años. Dark Phoenix es la historia de uno de los personajes más adorados de X-Men, Jean Grey, a medida que se transforma en la icónica Dark Phoenix. Durante una misión de rescate que pone en riesgo la vida en el espacio, Jean es golpeada por una fuerza cósmica que la transforma en uno de los mutantes más poderosos de todos. Al luchar con este poder cada vez más inestable como también con sus demonios personales, Jean se descontrola despedazando a la familia X-Men y amenazando con destruir el mismísimo inicio de nuestro planeta. La película es la más intensa y emotiva de todas las de X-Men. It is the culmination of 20 years of X-Men movies, as the family of mutants that we've come to know and love must face their most devastating enemy yet — one of their own. En cines el 7 de junio.
Para conocer más acerca de T-Mobile Tuesdays, visita https://es.t-mobile.com/offers/t-mobile-tuesdays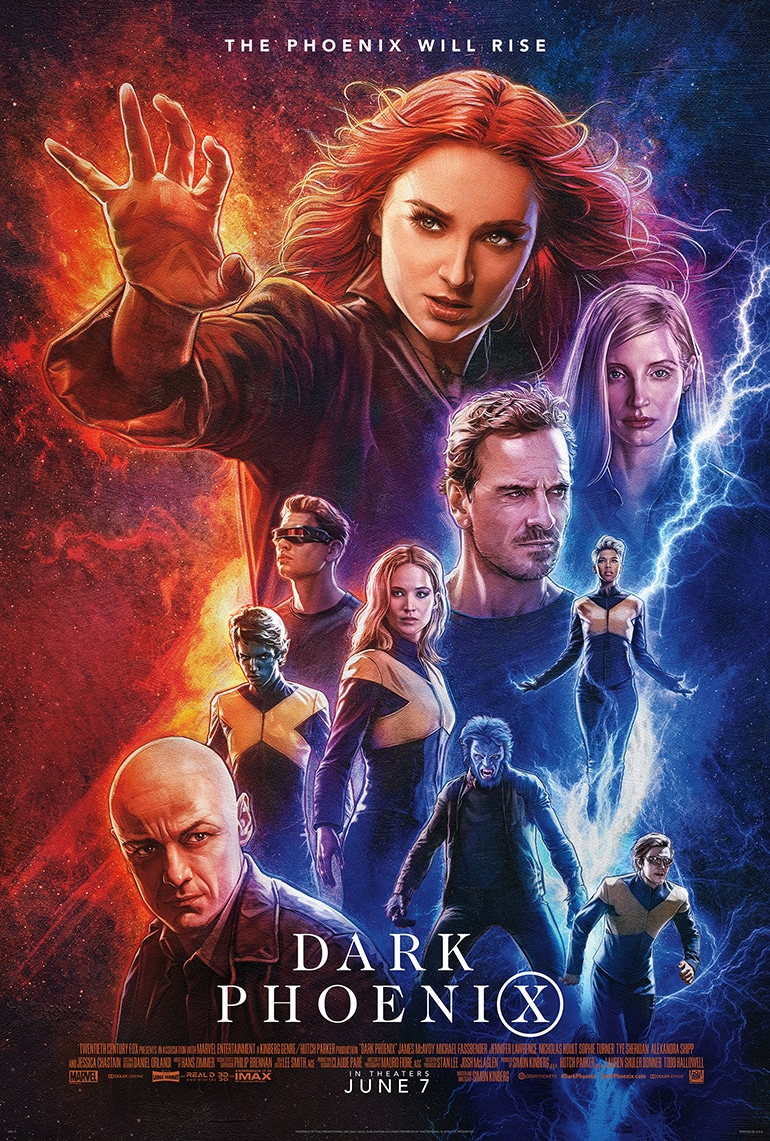 Ofertas por tiempo limitado; sujetas a cambio. Qualifying service required for T-Mobile Tuesdays. $4 Ticket: Free Atom account req'd. Claim in App & redeem with Atom by 11:59 pm ET on 6/9/19 ET. Límite de 1 boleto por pedido. Sweeps: NO PURCHASE NECESSARY. Open to residents of the 50 U.S./D.C./P.R., 18+, 5/13/19 1:00 pm ET – 5/14/19 @ 1:00 pm ET. On how to enter & full rules click aquí Nulo donde esté prohibido por la ley. Patrocinado por T-Mobile.