Bellevue, Washington - 3 de octubre de 2018 - T-Mobile (NASDAQ: TMUS) customers are chalking up another win. Millions of tests from real wireless customers across all wireless networks show the Un-carrier had the fastest 4G LTE upload and download speeds for the 19th quarter in a row, according to Speedtest Intelligence® data from Ookla®. That's nearly 5 straight years of Un-carrier customers having the fastest wireless network in the U.S.
"Millions of customer experiences across the U.S. show yet again, that the Un-carrier can't be beat when it comes to speed," said John Legere, CEO of T-Mobile. "Fast speeds mean customers can do more of what they love. More downloads. More shares. More photos. More streams. More of everything. We've built the company - and our network - around delivering the best experience to customers, and we won't stop."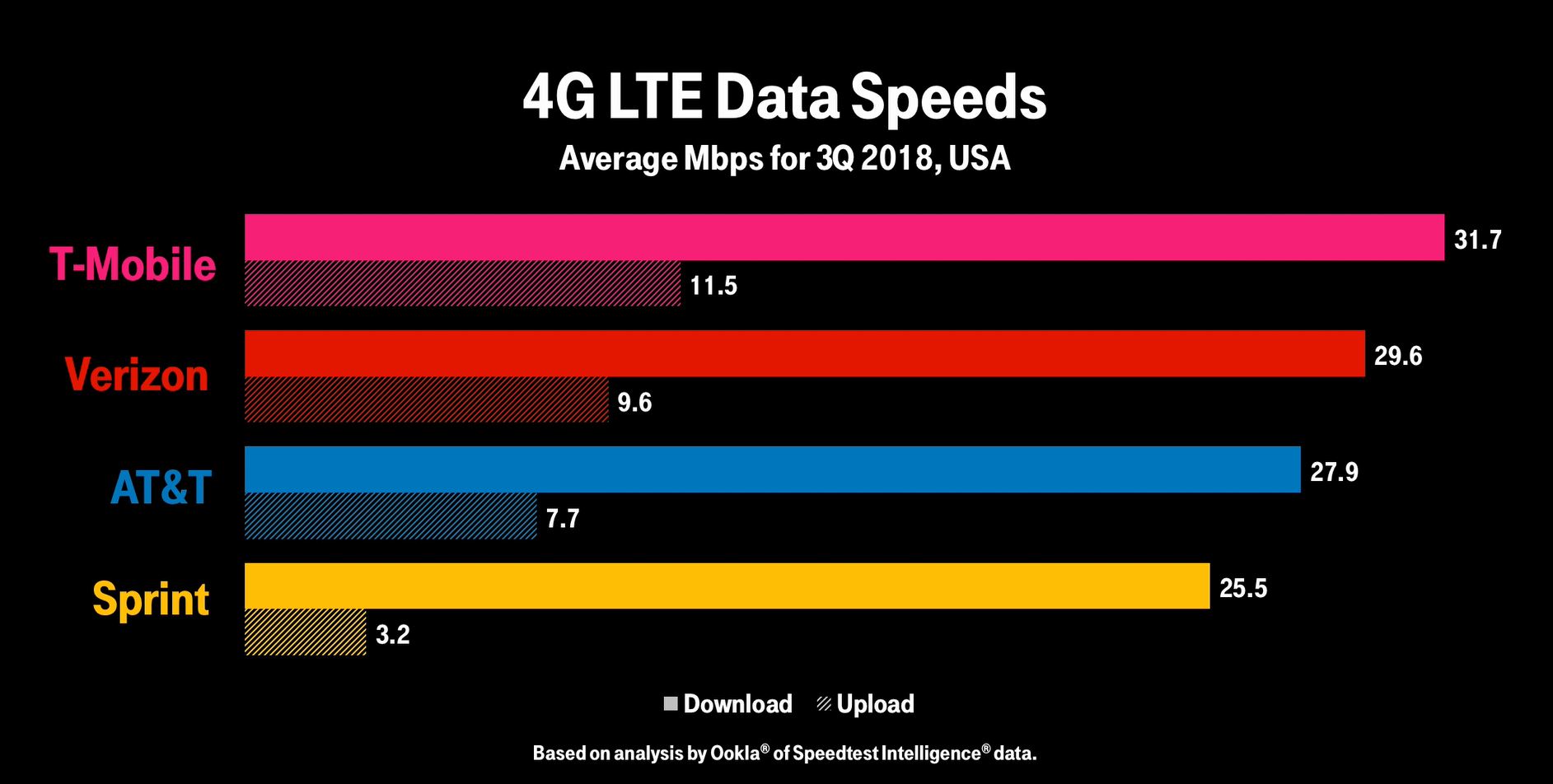 Ookla gathers data directly from wireless customers using the Speedtest® app on their smartphones, so these results show what wireless customers across every major network are actually experiencing. Measurements are taken on a wide variety of phones wherever customers happen to be, at home, at work, or on the go – indoors and out.
Speaking of fast, T-Mobile continues to roll out 600 MHz Extended Range LTE at furious pace. More than 1,250 ciudades across 36 states, including Puerto Rico, are already lit up with 600 MHz LTE. The Un-carrier's deployment of 600 MHz LTE is expanding network coverage and capacity, particularly in rural areas, and lays the foundation for nationwide 5G in 2020 with 5G ready equipment.
Para obtener más información sobre la red T-Mobile, visita T-Mobile.com/cobertura
Datos de Speedtest Intelligence basados en velocidades LTE 4G promedio. 1.° trimestre de 2014 al 2.° trimestre de 2017 es el análisis de T-Mobile de los datos. Q3 2017 - Q3 2018 is analysis by Ookla of the data.

Acerca de T‑Mobile
Como El Un-carrier de EE.UU., T-Mobile US, Inc. (NASDAQ: TMUS) está redefiniendo la forma en que los consumidores y las empresas adquieren los servicios de telefonía móvil por medio de liderazgo en la innovación de productos y servicios. Nuestra avanzada red nacional 4G LTE brinda experiencias excepcionales de servicio móvil a 75.6 millones de clientes que no están dispuestos a transigir en calidad y en valor. Con sede en Bellevue, Washington, T-Mobile US presta servicios a través de sus subsidiarias y opera sus marcas emblemáticas, T-Mobile y Metro by T-Mobile. Para obtener más información, visita  http://www.t-mobile.com.