Billions of tests from real customers on every network – not tests by paid consultants — prove T-Mobile customers get an LTE signal more often AND the fastest network  
Bellevue, Washington — January 22, 2018 — It's a no-brainer: the real test of a mobile network is how actual wireless customers experience it. New customer data released today from OpenSignal, the global standard for measuring consumers' real-world mobile network experiences, names T-Mobile (NASDAQ: TMUS) as the winner in five categories in the State of Mobile Networks USA report. Nearly 6 billion tests from actual customers of every major wireless network show that Un-carrier customers get an LTE signal more often than those of any other major wireless company, and they get it on the fastest network in the industry.
"Wireless customers have spoken AGAIN, and it's time for the Carriers to face facts! BILLIONS of real customer tests prove we've built America's best network!" said John Legere, president and CEO of T-Mobile. "That's why T-Mobile customers are the happiest in wireless. We've built our whole company - including the network - around delivering the best experience, and we. won't. stop."
OpenSignal mide a los mejores cuatro proveedores de servicio móvil en cuanto a velocidad de datos móviles, latencia (la capacidad de respuesta de una red) y disponibilidad (la capacidad de obtener una señal LTE). The results not only show that T-Mobile customers were able to connect to an LTE network 93.1% of the time, the results further support that T-Mobile's network is neck-and-neck with Verizon, and any differences that do exist will all but disappear as the Un-carrier continues their expansion into rural America.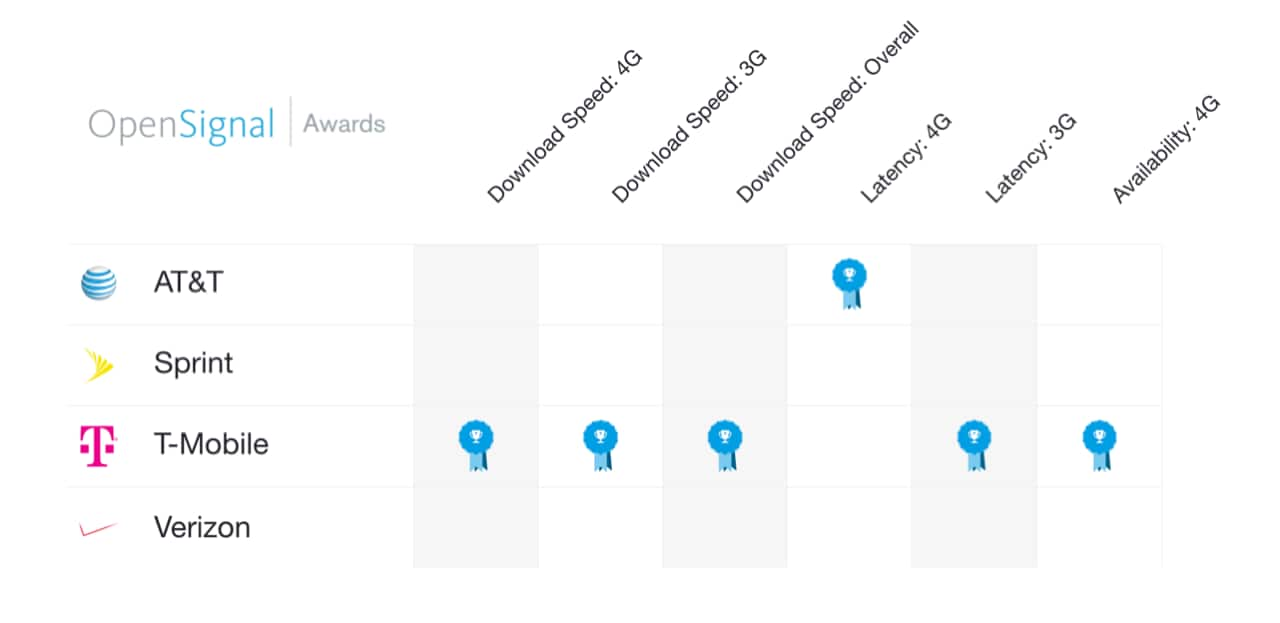 In addition to its national results, OpenSignal also reported on customers' experience with 4G download speed, latency and availability in 33 metropolitan areas. T-Mobile ganó o empató por primera vez en 24 áreas metropolitanas por su velocidad de descarga de 4G y en 11 por su latencia, y empató por primera vez en 22 por su disponibilidad.
En vez de basar los resultados en rutas de pruebas de campo programadas usando un entorno de prueba optimizado y solo unos cuantos smartphones, OpenSignal recopila datos directamente de clientes reales de servicio móvil en todas las redes. Los clientes usan la aplicación OpenSignal, la cual funciona constantemente en segundo plano, y recopila información sobre la experiencia con la red donde sea que lleven su smartphone. This gives OpenSignal a true, holistic measurement of users' wireless network experiences.
T-Mobile ha encabezado las listas de satisfacción del cliente y con la red durante todo el año. The Un-carrier's LTE network was also fastest for the 16th quarter in a row according to Speedtest by Ookla. That's four straight years of real wireless customer data proving that T-Mobile has the fastest network in America. T-Mobile also consistently ranked #1 in Overall Customer Satisfaction and Likelihood to Recommend1 in 2017 according to the latest national survey from the leading rastreador de opiniones de consumidores, que encuesta a más de 360,000 clientes de celulares al año. Add to that the recent YouGov BrandIndex report which ranked T-Mobile #1 in overall customer satisfaction throughout 2017, and the highest EVER industry scores in a recent study of wireless customer care performance, and you've got a brand that's built on the happiness of its customers.
La cobertura LTE de T-Mobile casi se ha triplicado desde 2015 y ahora ofrece cobertura a 322 millones de personas, prácticamente todos los estadounidenses.
Para obtener más información sobre la red de T-Mobile, visita T-Mobile.com/cobertura.
# # #
 
1. Según los datos de la encuesta de HarrisX Mobile Insights usando las calificaciones informadas por los suscriptores de Satisfacción general en una escala de 1 (no satisfecho) a 10 (muy satisfecho). La Probabilidad de recomendación tiene una escala de 0 (muy improbable) a 10 (muy probable). Los datos de origen subyacentes son una estimación basada en una encuesta nacional trimestral de 90,000 usuarios de celulares, de enero a diciembre de 2017.
 
Datos de Speedtest Intelligence basados en velocidades LTE 4G promedio. 1.° trimestre de 2014 al 2.° trimestre de 2017 es el análisis de T-Mobile de los datos. 3.° trimestre al 4.° trimestre de 2017 es el análisis de Ookla de los datos.
 
Data from OpenSignal State of Mobile Networks USA report – January 2018, based on independent analysis of 5,928,296,946 on-device measurements recorded by 237,213 users during the period Oct 1 – Dec 30, 2017  ©2018 OpenSignal Inc.
 
 
Acerca de T‑Mobile US, Inc.
Como El Un-carrier de EE.UU., T-Mobile US, Inc. (NASDAQ: TMUS) está redefiniendo la forma en que los consumidores y las empresas adquieren los servicios de telefonía móvil por medio de liderazgo en la innovación de productos y servicios. Nuestra avanzada red nacional 4G LTE brinda experiencias excepcionales de servicio móvil a 72.6 millones de clientes que no están dispuestos a transigir en calidad y en valor. Basada en Bellevue, Washington, T-Mobile US ofrece servicios a través de sus subsidiarias y opera sus marcas principales, T-Mobile y MetroPCS. Para obtener más información, visita  http://es.t-mobile.com.
 
Contactos para prensa
Relaciones con los medios — T-Mobile US, Inc.
MediaRelations@t-mobile.com
 
Contacto para relaciones con inversionistas
 T-Mobile US, Inc. 
investor.relations@t-mobile.com