BELLEVUE, Wash. — July 18, 2022 — Encore! T-Mobile (NASDAQ: TMUS) is adding more wins to its trophy case with the latest independent third-party report. In Ookla's Q2 Speedtest® Global Index Market Analysis United States report measuring nationwide network performance in Q2 2022, T-Mobile's network took the top spot for Overall Speed, Lowest Latency, Highest Consistency and Overall Video Score. The report also ranked the Un-carrier's 5G network first for download speed, availability and consistency.
"T-Mobile 5G, the nation's most awarded network, has top rankings in nearly every third-party benchmark over the last two years," said Neville Ray, President of Technology at T-Mobile. "It's clear we offer something customers can't get anywhere else, and now over half of our network traffic is on 5G devices. But we're not done yet - we're advancing the reach and capabilities of 5G every day."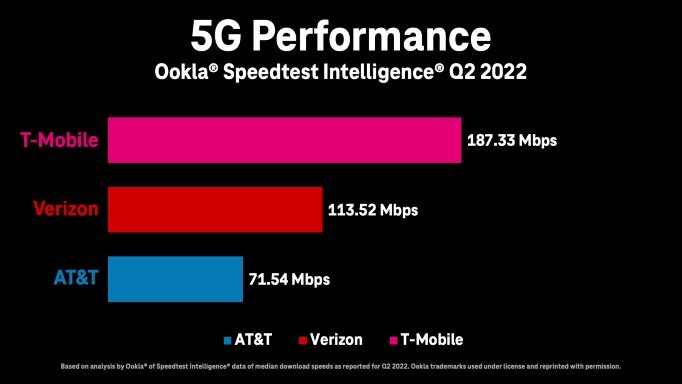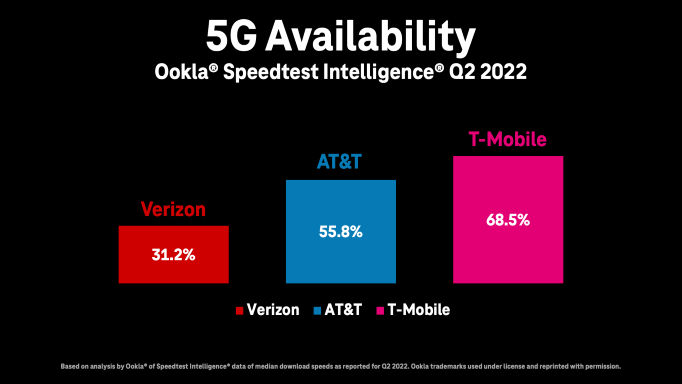 T-Mobile retains its #1 spot in 5G Performance with 5G median download speeds of 187.33 Mbps and its ranking as #1 in 5G Availability with customers on a 5G capable device being connected to 5G 68.5% of the time. That's more than twice as often than Verizon, further underscoring T-Mobile's superior 5G performance. The Un-carrier also tied for first in 5G Consistency at 76.6%, meaning customers can enjoy more consistent 5G speeds and performance on T-Mobile's network.
At the state and local level, T-Mobile ranked as the fastest mobile provider in 45 states and fastest in 75 of the 100 most populous U.S. cities in Q2 2022.
T-Mobile is the leader in 5G with the country's largest, fastest, most reliable and most awarded 5G network. The Un-carrier's Extended Range 5G covers nearly everyone in the country – 315 million people across 1.8 million square miles. 225 million people nationwide are covered with super-fast Ultra Capacity 5G, and T-Mobile expects to cover 260 million in 2022 and 300 million next year.
Para obtener más información sobre la red de T‑Mobile, visita es.T‑Mobile.com/coverage. Síguenos en la sala de prensa oficial de T-Mobile en Twitter, en @TMobileNews para estar al día con las últimas novedades de la compañía.
# # #
Requiere dispositivo compatible; cobertura no disponible en ciertas áreas. Para algunos usos se podría requerir un determinado plan o función; consulta es.T‑Mobile.com para obtener más detalles. Most Reliable: According to an audit report conducted by independent third-party umlaut containing crowdsourced data for user experience collected from November 2021 to May 2022. Detalles completos en: www.umlaut.com/en/benchmarking/USA.  Más rápida: con base en velocidades 5G promedio totales combinadas según un análisis de datos de velocidades de descargas 5G Speedtest Intelligence® realizado por Ookla® para el trimestre 2 de 2022. Las marcas comerciales de Ookla se usan bajo licencia y se reimprimen con autorización.
Acerca de T‑Mobile US, Inc.
T‑Mobile US Inc. (NASDAQ: TMUS) es El Un‑carrier superpoderoso de Estados Unidos con una red 4G LTE avanzada y una transformativa red 5G nacional que ofrecerá una conectividad confiable para todos. Los clientes de T‑Mobile reciben una calidad inigualable por su dinero, una firme obsesión por ofrecerles la mejor experiencia de servicio posible y un dinamismo indiscutible para disrumpir el mercado y así crear competencia e innovación más allá del ámbito del servicio móvil. Con sede en Bellevue, Washington, T‑Mobile presta servicios a través de sus subsidiarias y opera sus marcas emblemáticas, T‑Mobile, Metro by T‑Mobile y Sprint. Para obtener más información, visita: https://es.t-mobile.com.